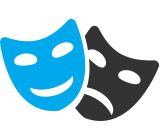 Special Effects
For this work field we recommend the use of poly-addition silicone rubber.
These silicones are developed for the entertainment work field. They are used to create static scenic elements or use for replicas of characters, masks, animals, scenery objects or prostheses that reproduce faithfully the skin. The chemical-mechanical properties and the easy to use are essential properties for this use.
Silicone rubber Feingosil for Special effects
Do you have any special requests? Do you want a private label product?
Feinchimica also produces silicones based on customer specifications