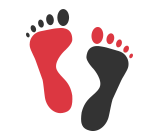 Chiropody
For this work field we recommend the use of poly-condensation and poly-addition silicone rubber.
Silicone paste are used in the paramedical field to realize orthoses. The product is applied directly on the point to copy. Curing is fast and hardening takes place in a few minutes from the start of mixing. You obtain soft, elastic and resistant moulds with excellent dimensional stability.
Silicone fluids are used for hell production. Low viscosity and fast curing allow to work easily. The pieces produced have high dimensional stability and resistance to aging.
Silicone rubber Feingosil for Chiropody
Do you have any special requests? Do you want a private label product?
Feinchimica also produces silicones based on customer specifications