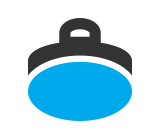 Pad-Printing
For this work field we recommend the use of poly-addition silicone rubber.
The pad-printing is an indirectly printing process, that allows to produce, in a simple way with high fidelity details, drawings, writings and decorations on flat, concave, convex or irregular surfaces.
Through a soft and flexible silicone pad, a film of indelible ink is transferred from an etched plate of steel or photopolymer (Clichè) on the surface of the support.
Silicone rubber Feingosil for Pad Printing
Do you have any special requests? Do you want a private label product?
Feinchimica also produces silicones based on customer specifications