Properties
They are putty poly-condensation silicone rubber which cure at room temperature. They're used in the paramedical field to realize orthoses. The product is applied directly on the point to copy. Curing is fast and hardening takes place in a few minutes from the start of mixing. You obtain soft, elastic and resistant moulds with excellent dimensional stability. The product doesn't contain toxic substances, it is non-stick and it is compatible with skin.
How to use
Weigh the required quantity of Feingosil PC Base and add 3% of catalyst. If the proportions are not exactly, the curing times and the final properties can be different. Mix the mass energetically with your fingertips for about 30" until a homogeneous colour is obtained, without stripes. Then model the mass as required.
You have about 2 minutes to work with the mass, including mixing time, at room temperature. It takes 5 minutes for the demoulding. The curing speed is influenced by the temperature. We recommend to work in an isothermal place at 23°C. Higher temperatures accelerate the curing times, lower temperatures reduce them. We suggest to wait for 24 h before using the moulds. We suggest to keep the products in their original packaging, well-closed at a temperature between +7°C and +27°C, in well-aired places. Mixing it with a clean shaker before use.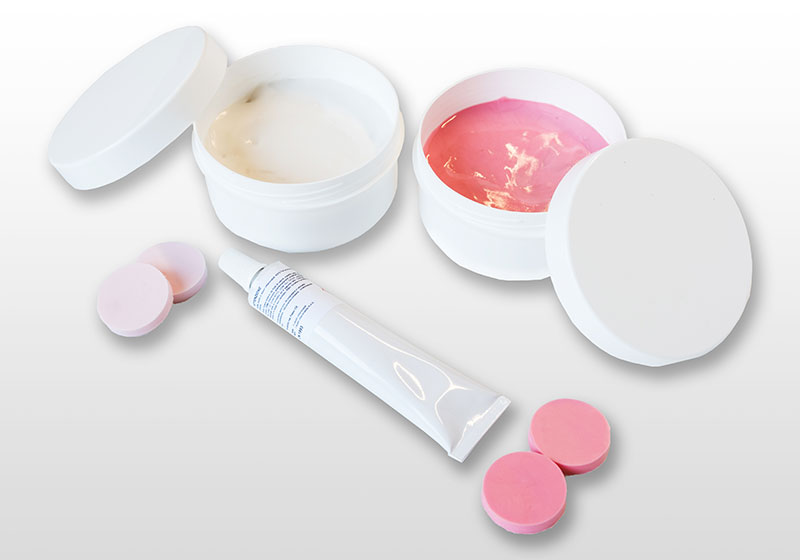 Mix ratio: 100:3
Colour: Pink
Working time: 1 ÷ 2 minutes
Setting time: 5 minutes
Hardness 8′: 10 Shore A
Hardness 24 h: 15 Shore A
read more
Mix ratio: 100:3
Colour: White
Working time: 1 ÷ 2 minutes
Setting time: 5 minutes
Hardness 8′: 21 Shore A
Hardness 24 h: 30 Shore A
read more